Swedes love Cinnamon buns, so much so that we have a special Cinnamon bun day 4th October.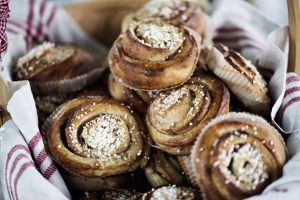 Apparently, the average Swede eats cakes and pastry equivalent to 316 cinnamon buns per year! This cinnamon-spiced doughy delight is essentially a long string of pastry dough wrapped into a ball and stuck together with sticky-sweet cinnamon buttery syrup.
Recipe:
About 30 buns
Ingredients:
Starter:
50 g of fresh yeast
2,5 dl of room tempered whole milk
100 g caster sugar
350 g wheat flour
Finish:
2.5 dl of room temperature whole milk
150 g of granulated sugar
200 g butter cut into pieces
10 g of salt
750 g wheat flour
1 egg
3 tbsp of freshly ground cardamom
Filling:
200 g room temperature butter
200 g caster sugar
3 tbsp cinnamon
2 pinches of salt
Method:
Begin with the starter. Dissolve the yeast in the milk, either by hand or in a stand mixer. Add the sugar and flour and work everything to an elastic dough. About 5 minutes in the stand mixer or 10 minutes by hand. Cover the dough and leave to rise to double size in room tempered place for about 30 minutes.
Meanwhile, make the filling by just mixing together sugar, butter, cinnamon and salt. Also prepare the cardamom sugar if you want to use it for topping. This is done by mixing caster sugar and freshly ground cardamom. Set all this aside (at room temperature)
Add the ingredients for the finish to the starter and work the dough elastic. About 15 minutes by hand or 10 minutes in stand mixer. Don´t cheat with this, you want a lot of gluten in the dough and a really elastic dough.
On a surface dusted with flour, form the dough to a thin rectangular "sheet" that is about 60 x 60 cm. This is done by using a rolling pin. (you might need to add some more flour underneath the dough once or twice meanwhile forming the dough with the rolling pin.) Spread the filling over the entire dough and fold 1/3 of the surface from the top down to the center. Then fold 1/3 of the surface from the bottom of the sheet over what you just folded. This is called a "three fold". Cut this into strips that are about 2 cm wide. (about 80 gram/bun) Here you can choose if you want to twist each strip and twin it together to a knot. Or, if you prefer, roll the strip to a spin and fold the edge of the strip under the bun. Place the buns on trays covered with parchment paper and cool to chill. Place the trays in a cool place like a basement (but not fridge). Allow to rice for 4-5 hours. Then take the trays to room temperature and allow to rest until they are fluffy and about twice as large.
Brush with egg wash before baking and sprinkle with either nib sugar or cardamom sugar (see instructions above). Bake in the middle of the oven at 435 degrees Fahrenheit until the cinnmon buns get a golden brown color.
Let the buns cool and freeze the cinnamon rolls that are not to be eaten the same day or possibly the following day.